The Intuitive Colorimeter was designed by Professor Arnold Wilkins at the British Medical Research Council in 1993.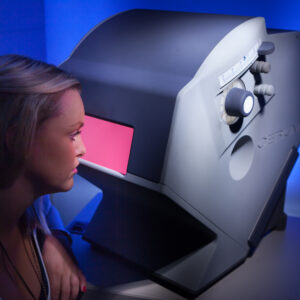 The discovery of the underlying photosensitive condition of Visual Stress had not previously been recognised by vision professionals as a problem that could prevent learning, and that required diagnosis and treatment.
The Intuitive Colorimeter was scientifically designed to present sequentially the colours in colour space, thereby allowing the patient to swiftly identify the precision colour to best alleviate their symptoms.
Working in conjunction with vision specialists, the patient is able to define the optimal setting where visual comfort is noted. The final optimal chosen colour can be prescribed into Cerium Precision Tinted Lenses which may reduce or eradicate symptoms of Visual Stress.
Research showed that offering a large number of colours allowed for optimal results for the patient. The Intuitive Colorimeter™ offers many thousands of colour combinations.