The Intuitive Colorimeter™ was designed by Professor Arnold Wilkins at the British Medical Research Council in 1993.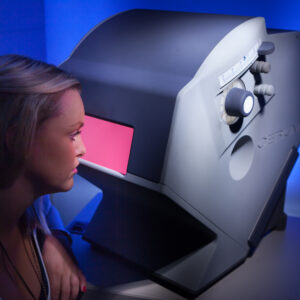 The instrument was scientifically designed to present sequentially the colours in colour space, thereby allowing a patient to swiftly identify the precision colour that may help alleviate their symptoms. It's believed that offering a large number of colours allows for optimal results for the patient and the Intuitive Colorimeter offers many thousands of colour combinations. The instrument was subsequently made available to purchase by licensed vision professionals, and Colorimetry clinics are now available nationwide and overseas.
Four generations of the Intuitive Colorimeter have come to market since 1993, including the latest model – the Curve – which offers a fully digital assessment process.